Tham Lot Cave with a River Running Through it
If you are interested in caves and their mysterious stories, this is the place for you. Because Tham Lot cave in Northern Thailand's Mae Hong Son District is truly a huge and fascinating cave with places still unexplored. This place is also attractive for history lovers. Because the cave tombs and the remains from the cave carry the traces of human life here until the prehistoric age.
Cave Traveling on Bamboo Rafts
Its limestone structure was eroded by the waters of the Nam Lang River passing through the mountain, causing gigantic stalagmites and stalactites to form inside. You have the opportunity to jump on a bamboo raft along the mountain and explore these places in this way. If you do not prefer to go down to the cave with a raft, you can reach here by walking for 1 km. The second option is a bit time-consuming and demanding, but worth the Tham Lot Cave experience. Stream enters 600 meters of the cave, which has a total length of 1600 meters. The trip takes 2 hours in total.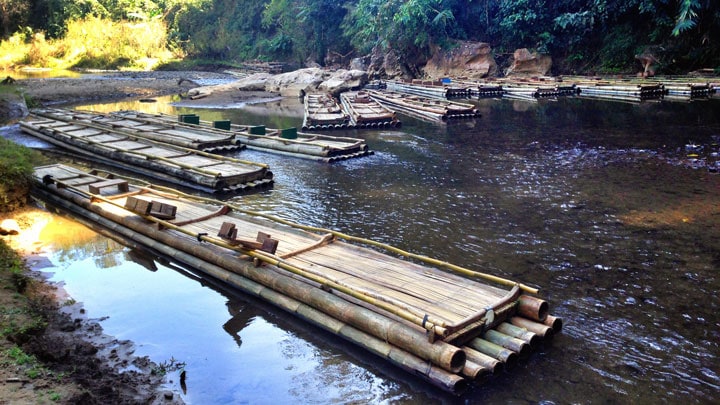 It's also home to many bats and baboons. If you can be at the exit of the cave just at sunset, you can catch thousands of baboons and bats returning to their caves for bedtime.
The local people of this place guide you inside the cave. Because it is forbidden to enter here without a guide. You pay a really funny figure like 100-150 Baht for this. (A guide is guiding at least 1, maximum 3 people) But don't expect a good enough English explanation. It is necessary to rent a gas lamp at the entrance to the cave.
Roughly, the entrance and exit to the cave, the guide, the kerosene lamp, the rent of the raft all cost 400 Baht. 300 Baht if you rent a one way raft. In this way, you have to walk a 20-minute road outside, but you can only do this in the dry season (November to May). In the rainy season, there may be sections inside the cave that are closed to visitors.
Good news! You can also camp here. There is a camping area next to the Tham Lot Nature Study Center, which is very close to the cave and where the remains from the cave are exhibited.
Transportation?
In our opinion, the best way to visit this place and this region is to rent a motorbike. Moreover, this place is on one of the most famous motorcycle routes in the world. We have done this route with great pleasure, and we strongly recommend: MAE HONG SON LOOP

Coming from the highway, Tham Lot Cave is in Soppong area, about 80 km from Mae Hong Son District. Just 40 minutes south of Pai'a in Soppong. Buses bring you to a certain place. From here you get on a Songthaew and continue. Pai has become our favorite place in Thailand. This is an amazing hippie-built place in the jungle like no other in Thailand. Pai Travel Guide If you look at our article, we think you will be very excited. (You can find the link below)
What else to do while you're here?
There are lots of fun and mischievous things to do in Pai, 40 minutes away. As we said above, we recommend you to spend a day in Pai. Check out the activities there. Maybe you can extend your trip a little longer to join them:
PAI TRAVEL GUIDE, WHAT TO DO IN PAI and PAI CIRCUS SCHOOL'Be sure to click on it and get an idea!!

For more information about Thailand THAILAND TRAVEL GUIDE You can check our page.